2020 – e-Commerce Launch
2020 has been a strange year so far, we have been working hard during the lock down period to allow us to be able to bring The Rug & Table Shop to direct to you, the customer.

We have realised the importance of being able to offer our customers the facility to select and buy items from the comfort of their own home and have them delivered direct to their door, safely with social distancing as a priority.
We have created a section on our website which shows the rugs that are held in stock at The Piece Hall allowing customers to purchase physical stock whilst manufacturers are unable to deliver during this time, please click here for our available stock.
Online shopping is a convenient and evolving way to shop, the shop at The Piece Hall will be our central hub as always allowing customers to view at their leisure, do what we love the most TOUCH IT, FEEL IT and SEE IT allowing us to carry out our friendly face to face sales which we feel very passionate about.  We also continue to offer a FREE Rug Home Sampling Service, where we will bring rugs to your property at a convenient time to enable you to see what your chosen rug would look like in its new home prior to purchasing.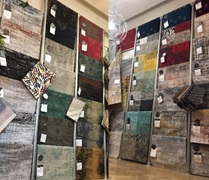 Our Rug Sampling Service is unique to us and this is not a hard sell, if you see a rug that you like and you are not sure if the colour, size, shade or texture is right for your setting we will bring the rug to you.  This allows you to see the rug in situ to ensure that you are making the right decision.
Whilst the free movement of people is still restricted, we are hoping that the offering of the website and our Rug Sampling Service will assist customers with whatever restrictions they may be facing.  We will adapt and work with customers to ensure that they get the best service possible.
We look forward to seeing new and returning customers once The Rug & Table Shop re-opens in The Piece Hall and we are online to assist all customers as much as possible.  We are very much looking forward to the time when we can all say………….