Choosing the purrrfect rug for your furry friends!
Choosing the purrfect rug for your furry friends!
At The Rug & Table Shop, we're passionate about family and a huge part of our family are our animals. In fact, the dog and cat depicted in our logo are actually silhouettes of two of our pets!
As we're a busy household surrounded by our furry family, we understand the need to have furnishings that are easy to clean and hardwearing. We swear by a number of considerations to help guide our buying decisions whenever deciding to add a new item to our home. As such, here are our top tips for choosing a new rug for a pet-friendly environment.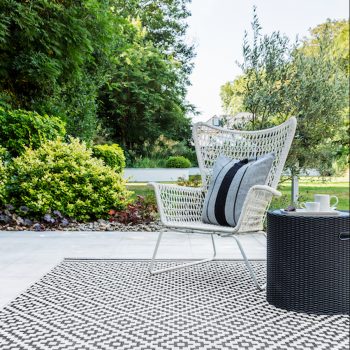 1. Style and durability in one – have you considered an indoor/outdoor rug?
Indoor/outdoor rugs have recently been given a style uplift and now benefit from beautiful and modern designs rather than the picnic blanket looking mats of yesteryear. There is no longer a need to forgo style in favour of practicality as the two now go hand in hand. What has this got to do with pets, you might ask? Well, this means that you can now have something that compliments your décor whilst withstanding high traffic, muddy paws and any accidents along the way!
2. Small patterns are key!
A tight pattern with different colours and smaller areas rather than solid blocks of colour will help disguise any stubborn stains. Opting for darker and brighter colours as opposed to paler ones will also help your rug last longer!
Take a look at the Parisian chic style of the Atelier Coco rug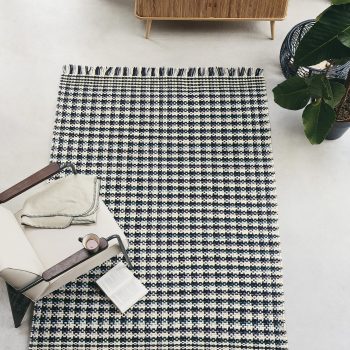 3. Keep it low!
Sheepskins, shaggy rugs and plush rugs are a cat's delight! They're known for gravitating towards anything remotely fluffy and will make fine work of a high pile rug. There is also the risk of dogs with larger claws getting them caught in the loops of a thicker woven piece. Instead, opt for a flat weave rug such as Louis De Poortere's fantastic Atlantic Streaks collection. Contemporary elegance with the practicality of a low pile whilst retaining a luxurious softness.
4. Bigger isn't always better…
Whilst a huge area rug can look beautiful, it might not always be the best choice for pet lovers. Placing smaller rugs around a space is a wise decision since any accidents can be easily cleaned without having to pay for a full room size providing a more cost effective solution. You also have more freedom to arrange your rugs away from any areas of high traffic such as external doors and cat flaps.
The beautiful Ankara Global rug sizing starts from as small as 122x61cm